Walsh & Co (Specialist Vehicles) Ltd,
Tel : 01686-413151
ARGO 8x8 2017 AVENGER 8x8 ST and STX Top of the Argo Range !
Yes, this is the one to have, as supplied by us to Jeremy Clarkson international motoring journalist and television presenter of the iconic TOP GEAR motoring programme. The ARGOCAT AVENGER 8x8 ST and STX is the most powerful of the ARGOCAT line up of amphibious all terrain vehicles. AVENGER ST and STX offers the ADMIRAL triple-diff gearbox, robust chassis and "easy-steer" control giving the operator smoother transition over all types of terrain. Designed for those who demand the best that will stand the test of time, the AVENGER is an amphibious, eight wheel drive, multi passenger vehicle that combines comfort and ruggedness with innovative and unique features including lower engine emissions, reduced vibration and enhanced performance from the 30HP fuel injected V twin petrol engine Kohler ELH775 engine. Avenger ST and STX fitted with heavy duty 1 3/8" diameter axles with multi-spline sprocket fitment. Reversible steel rims enable quicker and more convenient track system fitment. Avenger STX has in addition the heavy duty drive belt, brake cooling fan and Beadlock alloy rims with run flat capability.
The all season AVENGER has extraordinary capabilities. It operates in most challenging terrain, including mud and mountains, snow and ice, sand and marsh, and will go across small bodies of water.
The all wheel drive AVENGER has a load capacity of up to 485kg and can tow up to 816kg. Power comes via a 747 cc four stroke unleaded petrol V twin liquid cooled engine the ELH775. This proven and reliable KOHLER engine features full pressure lubrication and combines strong smooth acceleration with low emmission. It uses unleaded petrol and the 30hp fuel injected unit has a three year Kohler warranty.
Best of all, there is comfortable seating for up to six people. AVENGER owners and their passengers will appreciate the vehicle's ample legroom, its ergonomic handlebar steering and the smooth ride. The AVENGER's excellent approach and departure angles make it easy to pursue the most adventurous of out door activities.
Eight ARGO RIBBED tyres put down the power to the ground responsibily. Their low ground pressure minimises the environmental footprint of the vehicle and protects the countryside. AVENGER offers ground clearance of 9.5 inches, hydraulic vented disc brakes, a 12 volt 40 amp hour charging circuit (optional alternator system as an extra) and a state of the art automatic high and low CVT transmission. AVENGER 8x8 ST and STX has the ADMIRAL triple differental steering transmission and fully hydraulic braking system. All vehicle systems and components have been engineered to maximise durability and ease of maintenance. 2017 models fitted with new Argo "Easy-Steer" system for enhanced vehicle performance in all terrain and a top speed of 20 mph, were conditions allow.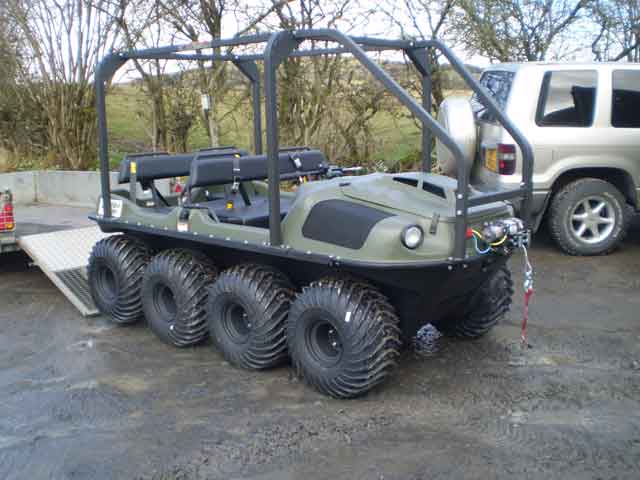 AVENGER 8x8 ST and STX 8x8 30HP : ENGINE :
30HP KOHLER twin cylinder, liquid cooled, fuel injected, petrol engine
Electric start
40 amp charging system
One piece ergonomic handlebar steering control with mounted hydraulic brake lever. For safety and ease of handling, the ARGO steering transmission provides continuos torque to all axles with NEW 2017 "easy-steer" system.
25" ARGO ribbed tyres for maximum grip and ground clearance
Belt driven Continuously Variable Transmission
High and Low Forward and Reverse, and Neutral.
Roller chain drive machined sprockets spline fit onto 1-3/8" diameter extra heavy duty axles
Large TRIPLE sealed outer flange greasable bearings.
AVENGER ST and STX : STANDARD EQUIPMENT :
Innovative triple differential ADMIRAL steering transmission provides even torque to all eight wheel
Self adjusting hydraulic brakes
Heavy duty front and rear axle hubs
Large TRIPLE seal bearings
Front and Rear axle extensions for increased axle and bearing life
Digital dashboard unit with Hourmeter, Speedometer, Miles travelled, rev counter, water temperature, voltage, oil pressure light, engine management light and handbrake light.
50MM Trailer hitch to extend the versatility
Meets current CE specification with mechanical disc handbrake and horn
ST load capacity 485kg. STX load capacity469 kg
Towing capacity 816kg
ST vehicle weight 603kg. STX vehicle weight 619kg
Full length underbody skid plate
Seven gallon fuel tank - 14 hours operation (estimated)
Tyres - ARGO AT189 25x11.00-9NHS give 9.5" underbody ground clearance
Capacities and weights do not include additional fitted accessories.
Optional Roll frame/cage is ROPS tested.
PERFORMANCE :
Max speed 20 mph / 32km/h (land) and 3 mph / 4km/h on water
6 persons on land, 4 persons on water